AUTOMATIC TRANSFER SWITCHES
ATS or Automatic Transfer Switches are a type of power flow control panel to switch between mains power and generator power.
Having an ATS, allows for the switch to occur automatically during power outage. This reduces the grid down time.
The ATS also isolates the mains and generator circuits from each other, preventing back power from genset to mains and vice-versa preventing burnout and protecting equipment and personnel lives.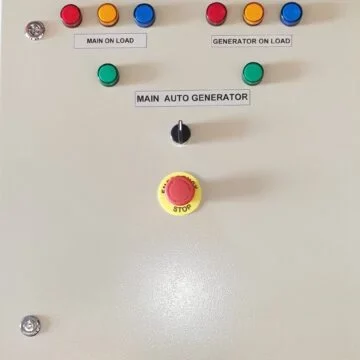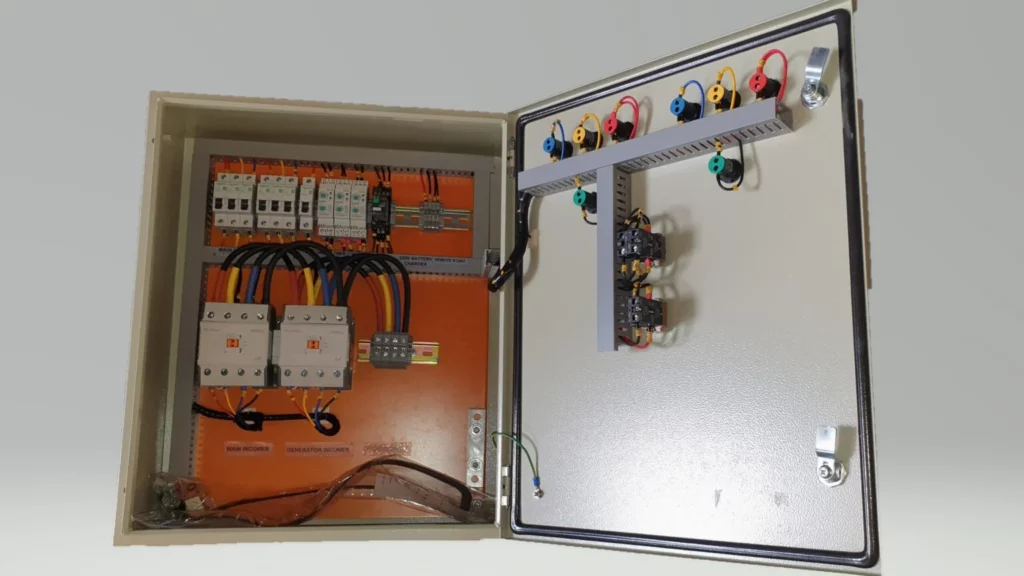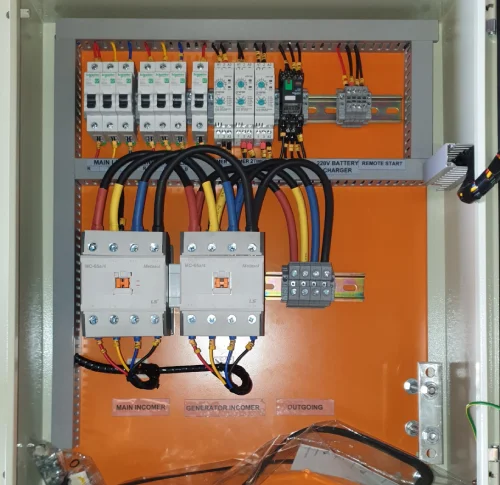 ATS PRODUCT LIST 2021 – WORLD POWER SOLUTION

Generator kVA (Standby)

Prime Kva

ATS Amps

3P/4P

Interlock

Contactor/Coil

Material of Bus Bar

Housing Dimensions (mm) HXLXW

10

9

40

4 pole

Mechanical + Electrical

Contactor

Wire connections

600 x 500 x 200

14

12.5

40

4 pole

Mechanical + Electrical

Contactor

Wire connections

600 x 500 x 200

15

13

40

4 pole

Mechanical + Electrical

Contactor

Wire connections

600 x 500 x 200

16.5

15

40

4 pole

Mechanical + Electrical

Contactor

Wire connections

600 x 500 x 200

22

20

40

4 pole

Mechanical + Electrical

Contactor

Wire connections

600 x 500 x 200

33

30

40

4 pole

Mechanical + Electrical

Contactor

Wire connections

600 x 500 x 200

50

45

65

4 pole

Mechanical + Electrical

Contactor

Wire connections

600 x 500 x 200

66

60

85

4 pole

Mechanical + Electrical

Contactor

Wire connections

600 x 500 x 200

88

80

100

4 pole

Mechanical + Electrical

Contactor

Wire connections

1000 x 800 x 250

110

100

150

4 pole

Mechanical + Electrical

Contactor

Wire connections

1000 x 800 x 250

150

135

200

4 pole

Mechanical + Electrical

Contactor

Tin Plated Copper Bus Bar

1000 x 800 x 250

165

150

265

4 pole

Mechanical + Electrical

Contactor

Tin Plated Copper Bus Bar

1200 x 1000 x 300

198

180

265

4 pole

Mechanical + Electrical

Contactor

Tin Plated Copper Bus Bar

1200 x 1000 x 300

220

200

300

4 pole

Mechanical + Electrical

Contactor

Tin Plated Copper Bus Bar

1200 x 1000 x 300

275

250

400

4 pole

Mechanical + Electrical

Contactor

Tin Plated Copper Bus Bar

1200 x 1000 x 300

330

300

630

4 pole

Mechanical + Electrical

Contactor

Tin Plated Copper Bus Bar

1400 x 1200 x 400

385

350

630

4 pole

Mechanical + Electrical

Contactor

Tin Plated Copper Bus Bar

1400 x 1200 x 400

400

365

630

4 pole

Mechanical + Electrical

Contactor

Tin Plated Copper Bus Bar

1400 x 1200 x 400

440

400

630

4 pole

Mechanical + Electrical

Contactor

Tin Plated Copper Bus Bar

1400 x 1200 x 400

495

450

800

4 pole

Mechanical + Electrical

Contactor

Tin Plated Copper Bus Bar

1400 x 1200 x 400

550

500

800

4 pole

Mechanical + Electrical

Contactor

Tin Plated Copper Bus Bar

1400 x 1200 x 400

660

600

1000

4 pole

Mechanical + Electrical

Motorized MCCB

Tin Plated Copper Bus Bar

 

715

650

1000

4 pole

Mechanical + Electrical

Motorized MCCB

Tin Plated Copper Bus Bar

 

825

750

1000

4 pole

Mechanical + Electrical

Motorized MCCB

Tin Plated Copper Bus Bar

 

880

800

1200

4 pole

Mechanical + Electrical

Motorized MCCB

Tin Plated Copper Bus Bar

 

1100

1000

1600

4 pole

Mechanical + Electrical

Motorized MCCB

Tin Plated Copper Bus Bar

 

1375

1250

1800

4 pole

Mechanical + Electrical

ACB

Tin Plated Copper Bus Bar

 

1650

1500

2500

4 pole

Mechanical + Electrical

ACB

Tin Plated Copper Bus Bar